It's been a while since I said much here but the big news lately—other than New York—is my involvement in the creation of Adoptees United, a national nonprofit organization dedicated to the protection of adoptee rights, whether those rights relate to identity, U.S. citizenship, or any other issues. AU, as it's known, is a 501(c)(3) tax-exempt organization, which means donations to it are tax-deductible. That's key for a few reasons, but especially for one current project: the DNA Kit Donation program I've been single-handedly running for Adoptee Rights Law Center over the last two years.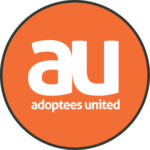 As of August 1, 2019, that program and its current funds have been transferred to Adoptees United. The balance transferred is $561.14, and there are eleven donated kits ready to be sent out to those who qualify and need one (but please make sure you meet priorities of the program). Annette O'Connell, a board member of AU, will be overseeing the program for Adoptees United.
I'm thrilled to do this and it's a long time coming, as all donations to the program will now be tax-deductible (and some employers will also match funds). So consider donating so that we can make as many kits available to those who need them. All statistics, money, and details of the program will now be through Adoptees United.
I'll have more to say about AU and what it plans to do. I hope you'll sign up with them (it's free) and also consider donating not only to the DNA project but toward the issues Adoptees United plans to tackle.
—Greg